African Dancers for hire, based in the UK complete with African Drummers. Their traditional dances are from East Africa including Uganda, Kenya and Rwanda. Their East African dances are powerful, colourful, collaborative, exciting and energetic. Try our Zulu Dancers for weddings and corporate events.

African Dancers for hire with Drummers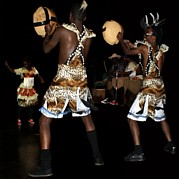 Price from: £350.00
African Music & Dance both contemporary and traditional.
Dance African – These African dancers are enriched with a variety of movements as routines. Some require lots of energy and intensity while others are more calm and gentle with an element of grace & beauty as the main motive.
Their dances are from East African (Ugandan, Kenya, Rwanda…etc) are powerful, colourful, collaborative, exciting and energetic.
These African dancers can be facilitated with accompaniment of professional drummers playing traditional music that enhances the intensity, energy and beauty of the dance. Depending on the budget, less facilitators can also be used.
2-dancers piece £POA
3-dancer piece £POA
5-dancers piece £POA
6-8 dancers piece £POA
On either piece a minimum of 3 drummers would be required and would cost from £POA
Recommended performance time of 2 x 25 minutes.
The above rates include travel costs in around the London M25 area but for events far and further afield travel costs do apply.
Weddings
There's an old African proverb that says "A wedding is made of laughter." They bring passionate musicians that offer you live entertainment to transform the entire evening. A professional DJ service to keep the night flowing from start to finish can also be provided.
You may have a favourite song, they can get the band or DJ to play requests given prior notice and are happy to fit in with any theme your event may have.
They pride themselves on having the flexibility to offer entertainment to suit all budgets and venue, large and small by tailoring their performance.
They also offer a variety of different line up options and they function brilliantly as a 2, 3, 4 piece as well as a the great value 5+ group.