Strictly Ballroom Dancers for hire – Professional Strictly Come Dancing style Dancers for hire performances throughout the UK and internationally. Hire our Strictly Ballroom Dancers, Latin Dancers, Samba Dancers, Foxtrot Dancers, Waltz Dancers and Tango Dancers too, Ballroom Dancing at it's very best. Try our Ballroom Dancers with Judges for your wedding and corporate event.

Strictly Ballroom Dancers for hire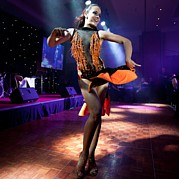 Price from: £650.00
These are the Midlands champions and are 10 dance champions meaning they can perform/teach any of the Latin and ballroom dances from the waltz and the foxtrot to the tango and the samba or even a quick cha cha cha!
They can perform up to 2 x ballroom dances and 2 x Latin dances per event.
They are quite happy to encourage the guests onto the dance floor and partake in some social dancing with the guests and pose for photographs. Jamie is also quite happy to speak on the microphone if the client requires this.
They have been dancing together since February 2010. He has come from a successful competitive background, whilst she has only recently found her way to competitive Ballroom and Latin dancing having come from a successful formation team.
They intend to compete on an international level for England, and will be competing in chart events all over the Nation to earn their right to represent their country.
As well as competing in England & Internationally, they are also available for demonstrations varying from tiny to huge events.
He has won both the British and UK Latin American championships whilst finishing runner up in the British and UK Ballroom championships.
They have been lucky enough to compete and demonstrate all over the world, with a particular highlight being when he and his partner were invited by the Sheik of Abu Dhabi to do a private demonstration within the palace walls for his wife and himself!
Price From £ 650.00 Depending on location
Areas Covered Midlands – Nationally/Internationally

South & South East
Available for hire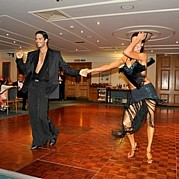 Price from: £650.00
Courtesy of Steppin' Out Entertainment and Corporate Events