Street dancers for hire, Break dancers, Hip Hop dancers, Flash Mob dancers for hire throughout the UK and abroad. Available for hire at Stag Parties, Hen Parties, Nightclub Promotions, Civil partnerships, Birthdays, Corporate Functions, Private Parties, TV and Promotional Events. These dancers are all professionals.

Street Dancers for hire, Hip Hop, Fusion and Flash Mob Dancers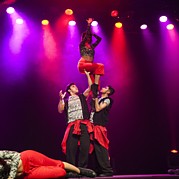 Price from:
£195.00 per dancer
They pride themselves in being one of the UKs most professional and high energy Street dance troupes only using the highest calibre of dancers, which enables them to maintain a very high standard through every performance and have developed an excellent reputation shown through our achievements and client feedback.
Bringing fully choreographed spell binding routines and performances that will enhance any Corporate event, Private party, Wedding , promotion in fact any occasion that you want to make memorable and leave any audience wanting more."

Street and Break Dancers
Available for hire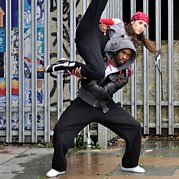 Price from: £450.00

A dynamic group of street dancers, who perform to the latest chart songs and will wow the audience with their unique choreography.
Our shows are unique and original, choreographed to an exceptionally high standard from London's most talented choreographers, adding to that a team of Costume Designers and Music Editors who work hand in hand to produce totally amazing results!
They cater for all occasions
They pride themselves in being one of London's Finest Dance Companies and work with their clients every step of the way to develop shows that will exceed all expectations yet always offering a friendly and personal touch to ALL their clients.
Courtesy of Steppin' Out Entertainment and Corporate Events

'New Style' Hip Hop Dancer
Available for hire
This New Style' Hip Hop Dancer performs at weddings, corporate events, private functions and runs his own dance classes. He's a Hip Hop/New Style/ Michael Jackson dancer with an influence of Ballet, Jazz, Tap and Contemporary.
He offers a "FULL ON" 10 minute set and is ideal if you're looking to book a dance act with that BIG 'WOW' factor!