Pole dancers for hire throughout the UK and abroad. Podium Dancers for pub and club promotions. Why not take to the pole with our Pole Dancers for hire where your guests can learn a mini routine of their very own! Available for hire at Stag Parties, Hen Parties, Gentlemen evenings, Nightclub Promotions, Civil partnerships, Birthdays, Corporate Functions, Private Parties, TV and Promotional Events.

Pole Dancers and Podium Dancers
HALLOWEEN POLE & PODIUM DANCERS
Halloween Pole and Podium Dancers for hire, ideal for you Halloween themed Party, Private Parties, Corporate Events, Nightclubs, Promotional Events, Launch Events and Stag Nights.
Complete with face make-up, hair styles and costumes.
Price from £250 per Pole / Podium Dancer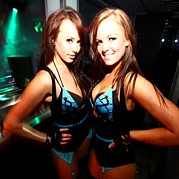 Price from:
£250.00 per Dancer
Professional Pole and Podium Dancers for your special occasion.
Private Parties
Corporate Events
Nightclubs
Promotional Events
Launch Events
Stag Nights
Our female and male dancers provide a fantastic show!
They can be hired to perform a complete show including demonstrations or as podium pole dancers to dance throughout the night, entertaining clubbers until the early hours of the morning!
Pole dance is a form of performing art, a combination of dance and gymnastics. It involves dancing and performing acrobatic tricks with a vertical pole and is an increasingly popular form of fitness and dance.
Pole dance requires significant strength, flexibility and endurance. Pole dance involves athletic moves such as climbs, spins, and body inversions using the limbs to grip. Upper body and core strength are required in order to attain proficiency, and rigorous training is necessary.

Pole Dancer Lisa
Available for hire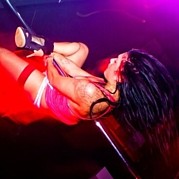 Price from: £300.00
or £350 with pole

Courtesy of Steppin' Out Entertainment and Corporate Events