Las Vegas Showgirls for hire, our Vegas Showgirls, Hollywood Showgirls, Masquerade Showgirls are just a few of the themes we cover. Our Showgirl dancers for hire throughout the UK and abroad. Available for Nightclub Promotions, Civil partnerships, Birthdays, Corporate Functions, Private Parties, TV and Promotional Events. These dancers are all professionals.
Rio Brazil Olympics 2016
Rio Showgirls and Dancers available for hire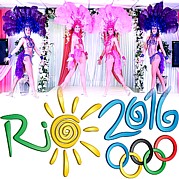 Brazilian Show
With high energy dynamic choreographed routines and dazzling costumes our Brazilian dancers will create an authentic Latin and Brazilian experience bringing the Rio de Janeiro carnival atmosphere direct to your event.
The show features the dancers performing traditional Latin and Brazilian dance choreography with flair , passion and excitement adorned in extravagant and vibrant costumes and the energetic Brazilian rhythms are bought to life with our Brazilian drummers. All the Brazilian elements bought to your event with expertise and panache.
Standard performance
1 x 20 minute performance or 2 x 10 minute performances
Meet and Greet and audience participation are available on request.
We can offer many different show formats to meet the requirements of your special event…..from Brazilian and Latin dancers , Capoeira performers , Drummers and Musicians.
Testimonials
You were all so beautiful and had such great energy , my guests were amazed. Loved your Brazilian drummer , he was so good and the dancers with their elaborate costumes, beautiful bodies , faces and dance moves. Thank you so so much for being on time and doing everything you said you would. You guys made our party a night we will never forget!! Thank you , Thank you , Thank you !!!
Mr & Mrs K Sharpe – London
I highly recommend this amazing Brazilian show. The dancers looked fantastic in their stunning costumes. They really know how to bring the Brazilian culture to your party. Thank you
Victoria Kane – West Midlands
Thank you for bringing so much fun to my birthday I will never forget it. I cant' wait to have another party so I can book you guys again. Beautiful Samba dancers and loved the Capoeira performer! Your costumes are beautiful as well !
I really wanted your performance to last the entire party !
Thank you again x
Sabrina Marcelli – Northampton
REP /SHOWS
Brazilian Carnival Show
Latin Brazilian show
Rio Carnival show
Latin Salsa Show
Capoeira show
Brazilian workshop
Latin Workshop
Meet and greet guests
Full stage Production
(dancers and live band)
Rio Brazil Olympics 2016 Showgirls & Dancers

Las Vegas Showgirls for hire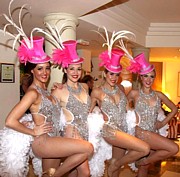 Price from:
£230.00 per Showgirl
Our Showgirls are available to hire to meet and greet your guests on arrival, to assist with welcome drinks.
Once the girls have shown your guests to their tables, they can perform up to 3 fully choreographed themed dance routines such as Viva Las Vegas, Copacabana and Diamonds are a girl's best friend.
Each routine last approx 4 minutes and performances can be stand alone throughout the evening (perhaps in between courses of dinner if having a sit down meal) or as one longer 15 minute performance.
They will finish the evening by posing for photos with your guests in their show stopping feathers.
Our Showgirls are available to hire in the following themes:
Charleston & Flapper Christmas
Gansters and Molls
Hollywood
Las Vegas
Line Dancers
James Bond
Masquarade
Parisian (Can Can)
Rio (Latino)
Wild Wild West
Winter Wonderland
Las Vegas and Masquerade Showgirls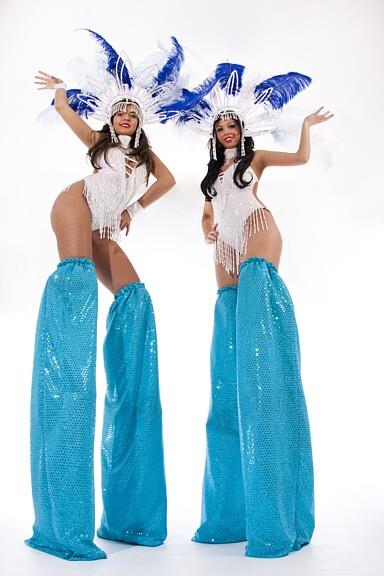 We have a wide range of Stilt Walkers which you can also combine with a Living Static or Strolling Table. We have many themes available including: Mermaids, Moulin Rouge, Ice, Cupid, Clowns, Cowboys and Cowgirls, Burlesque, Hawaiian, Showgirls, Paddy Girls, Pimps, Christmas themed and many more.
Perfect for any number of formal occasions, from private parties to wedding receptions, our Showgirl stilt walkers bring entertainment with a touch of class and glamour to any event.
For an extra twist why not have our Showgirl stilt walkers act as waitresses for a formal buffet or cocktail function.
Please visit our sister site for more information at Showgirl Stilt Walkers