Burlesques performers, Burlesque dancers, Burlesque Showgirls and Burlesque Fire Performers are available for performances throughout the UK and internationally ideal for your Burlesque themed event including Stag Parties, Hen Parties and Gentlemen Evenings. Props include a Giant Champagne Glass Show, Feather Fans and fetish themed contemporary striptease performed entirely whilst handcuffed.

Burlesque Performers
Available for hire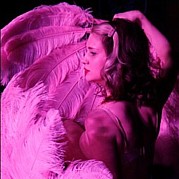 Price from: £290.00
This Burlesque performer been dancing burlesque in various venues in England, ranging in location from Newcastle to London, for a number of years now, and has built up a good reputation as a talented and reliable performer. Based in the East Midlands, although she is more than willing to travel nationwide. She specialisies in character based striptease and classic risque dance with props such as feather fans, and her performance persona is that of a 'femme fatale'.
Playlist/Repertoire:
– Fairytale Fan Dance (classic ostrich feather fan dance)
– The Big Sleaze (classic striptease with Film Noir theme)
– Purple Rose (classic striptease and chair routine)
– The Vampire's Metamorphosis (vampire themed classic striptease with a slightly gory reveal)
– Restricted (fetish themed contemporary striptease performed entirely whilst handcuffed)
– Seasonal routines including an upbeat fan dance with artificial holly fans

London based Burlesque Troupe
Available for hire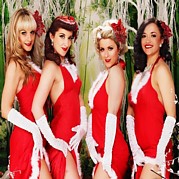 Price from: £180.00
London based Classic Burlesque dancers showcasing unique and spectacular choreography with a fun contemporary twist ~ Mixing the Old with the New ~
Inside their Selection Box of Burlesque Showgirls you will find a heady mix of Burlesque Dancing, Classic Songs, Circus & Striptease.
They're available across the UK & Europe for Burlesque Shows, Cabaret Events, Corporate Functions, Festivals & Parties
They will tailor our performances to your needs from one girl performing a solo act to a full nights entertainment featuring all six highly talented and individual showgirls
"They combine their amazing burlesque costumes with the most spectacular routines…"
New Showreel

London based Burlesque Cabaret Artist
Available for hire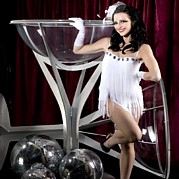 Price from: £450.00
Champagne Delight One pin up starlet plus a 2m high champagne glass can only amount to a whole lot of pleasure!
Let her greet you guests at the reception, give them a wonderful surprise as soon as they arrive or feature her as entertainment for guests at a dinner or dance.
Whether you want her as the main focus or simply something to be admired in the background, she is destined to make your event sparkle, feel free to request water, glitter or confetti to add an extra wow factor!
Other Cabaret and Performance packages available on request!

Nationwide – Burlesque Troupe
Available for hire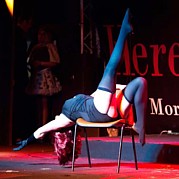 Price from:
£200.00 per performer
Looking for entertainment that's a little different from the rest?
Want to add a little shimmer and sparkle to your evening?
When you book one of our critically acclaimed Burlesque performers from this troupe you certainly won't be disappointed…….
Adding fun and frivol tease to any evening, our Beauty's of Burlesque each have their own unique and individual style. With fully choreographed spell binding routines and performances they are certain to leave any audience wanting more.
From the class and elegance of the traditional fan dance and seductive strip tease to the high energy, tongue in cheek routines of the Vaudeville era our sumptuous sirens have something to tickle everyone's fancy! Giant feather fans, champagne filled glasses, confetti filled balloons and larger than life props all add to the authenticity of these brilliant Burlesque performances.
Our international performers have captivated audiences worldwide, including performances in Paris, New York, Las Vegas, Hong Kong and London. From the eccentric to the erotic we have only the best Burlesque performers based throughout the UK for your convenience.